Feb. 2014
> Prof. Antal Fekete: From Gold anchor to Gold anvil
Beginning of a 17-part video series, with a new episode every Tuesday. Learn about the economic and societal connections that the inventors of the current monetary system don't want you to know about.


Jan. 2013
> Prof. Antal Fekete: Switzerland and the monetary crisis in Europe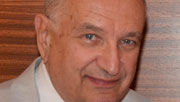 «In this paper, I describe how Switzerland can play a positive role in the present unprecedented monetary and financial crisis in Europe, in helping stabilize the currencies of European countries by remobilizing gold...»


Jan. 2013
> Prof. Hans J. Bocker: Liberty Through Gold
As in all past crises, gold will play a key role in the painful and inevitable process of recovery.


Nov. 2012
> Ron Paul: Farewell Speach to Congress, Nov. 14th 2012
US-Congressman Ron Paul's final speech on the House floor before leaving Congress after 23 years in office.